The photos are the view of "Joint Creation" 1st Exhibition on 19th-21st Apr '04. On this session, we have tried to put our each designs on Hemp Tee, which have been produced by Yak, made in Japan, Hemp 50% organic Cotton 50% , soft and luxurious body. The member of J.C. are 10 people, the artists who create on each fields, someone is a designer and another one is a director of movie, or musician, silver smith and so on.
Through this session, we could find that our creation is not finished at the made-up the goods, but completed by sharing the enjoyment as well as the goods, with guests and visitors joining us. It's so lovely experience! We really wish grow this up.
Thanks a lot !!!
"JOINT CREATION"
・・・1st session・・・
EXHIBITION on 19th-21st/Apr/04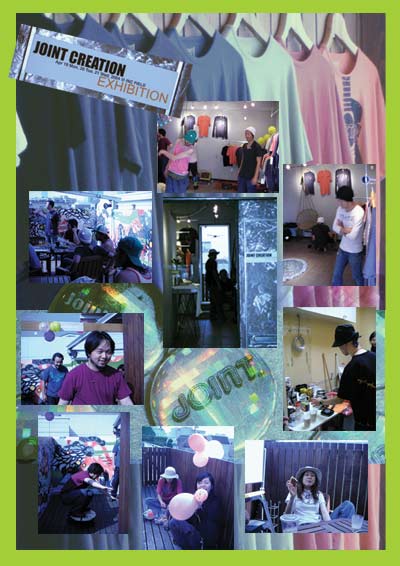 Joint Creation 1st Exhibition、無事終了致しました。応援、参加して下さった皆々様、本当に有り難う!!!楽しんで頂けたでしょうか?

今回のジョイントは、YAKプロデュースのHEMP Tee made in Japanに、参加クリエイターがそれぞれの想いをのせて表現してみました。このセッションを通し、私たちの表現は、Tシャツの完成でもって終わるのではないということ、改めて感じました。来てくれた皆のHeartが加わって、完璧!だったのです。Good Vibを運んでくれた皆さまに、心から感謝です!!!

素材と着心地にこだわって出来上がった柔らかなBodyに、Hot HeartなDesign Tee、これらが店頭に並ぶのは、8月下旬になります。皆さまに袖を通して頂けるときが待ち遠しいです。私たちも早く着たいです!

Thanks a lot!!!